LAWS72042 International Investment Law Nicolette Butler
2018-2019
Formerly Yenkong Ngangjoh Hodu
Principal Recommended Texts

3 items

Recommended Journal sources for articles

7 items

Arbitration international - Chartered Institute of Arbitrators (Great Britain), London Court of International Arbitration, Graham & Trotman, Kluwer Law International (Firm) 1985]-

Journal

Efforts to Regulate the Law of Foreign Investment

9 items

Protection of Investment

10 items

Issues in International Investment Agreements - "Pink Series" and its Sequels

Webpage Available via the UNCTAD website. The Series analyses the key concepts of core IIA provisions. The "First-generation Pink Series" (1999-2005) sought to help countries participate as effectively as possible in international investment rulemaking. The "Sequels" update and complement this Series analysing how key issues in IIA provisions have evolved, particularly focusing on treaty practice and arbitral decisions.

Dispute Settlement

25 items

Investment and Human Rights

16 items

The American Review of International Arbitration - Parker School of Foreign and Comparative Law, JurisNet LLC.

Journal Available via Lexis. Read Butler, N and Musa, S. 'Systemizing Human Rights within Investment Arbitration' [2017] 28 Am. Rev. Int'l Arb. 433. Also available via the authors

Sustainable development in world investment law - Marie-Claire Cordonier Segger, Andrew Paul Newcombe, Markus W Gehring 2011

Book Available via Kluwer Arbitration Books. Read Chapter 24: Hepburn, J, and Kuuya, V. 'Corporate Social Responsibility and Investment Treaties 589 - 609

Other Journals of Note

8 items

Please refer to the following non-exhaustive list of Journals for articles on International Investment Law

Websites of Relevant Intergovernmental Organisations

6 items

Website Website of the regional intergovernmental organisation of the Republics of Kenya, Uganda, the United Republic of Tanzania, Republic of Rwanda and Republic of Burundi

Mercosur (Southern Common Market)

Website Website of South America's leading trading bloc. Known as the Common Market of the South, it aims to bring about the free movement of goods, capital, services and people among its member states.

Creative Commons Attribution 3.0 Licence
Profile Required
Reading intentions and notes are stored against your user profile. Please create a profile to use this feature.
My notes
You must be logged in to add a note
What are item notes?
You can use item notes to make personal notes on any of your reading items. Notes are private to you and will not be shown to other users.
You can review your item notes from the list, the item page or from your profile page.
---
How do I create an item note?
To make notes, first you must be logged in. Once logged in, simply click Add note? next to the list item you wish to make notes on. You can also make notes at the bottom of every item's detail page.
Your note will be saved automatically as you type.
Have you read this?
You must be logged in to set a reading intention
What are reading intentions?
Setting up reading intentions help you organise your course reading. It makes it easy to scan through your lists and keep track of progress. Here's an example of what they look like: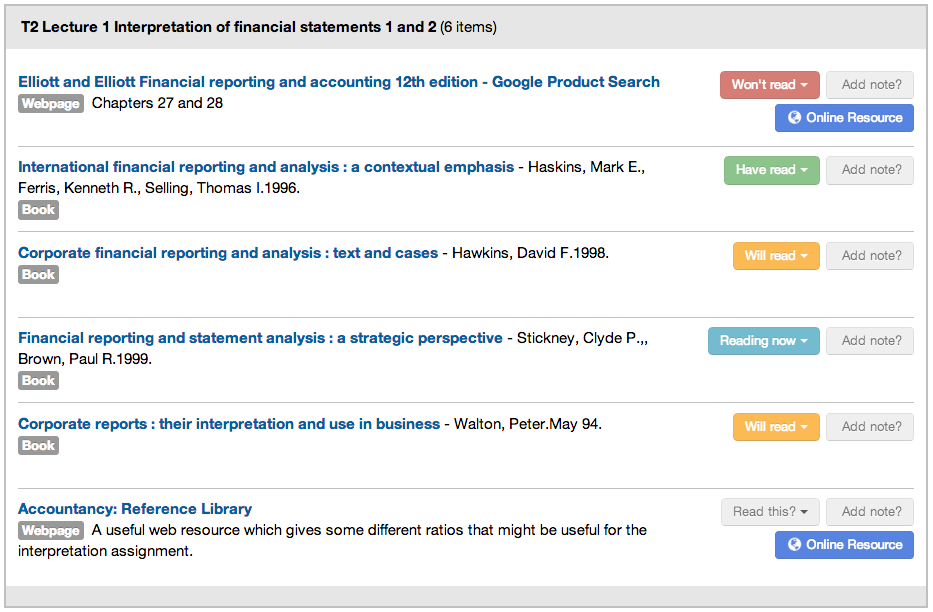 Your reading intentions are also stored in your profile for future reference.
---
How do I set a reading intention
To set a reading intention, first you must be logged in. Once logged in, click Read this? next to the list item you wish to set a reading intention for.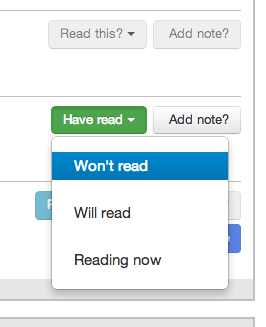 You can also set the reading intention from every item's detail page.