Management in Practice 2018-19 (BMAN31681)
2018-2019
Topics 1-5 Study Materials
EMIP THEMES: INQUIRY, RELFEXIVITY AND JUDGMENT

3 items

EMIP TOPIC 1: MANAGEMENT'S RESPONSIBILITIES

7 items

Management - Peter Drucker 2011 (electronic resource)

Book Recommended Pages 23-26

EMIP TOPIC 2: THINKING-IN-ACTION AND DECISION MAKING

15 items

These items relate to the subtopics of intuition, inquiry, sensemaking and reflection-in-action.

PERSPECTIVE 1: INTUITION (FAST and SLOW)

6 items

Book chapter on SLOW Intuition - see course homepage in Blackboard

This item is a book chapter which you can download from a folder on the Topic 2 homepage in Blackboard. Written by Guy Claxton, it describes the four mind myths in the study materials and presents a critique of 'fast' decision making, especially in relation to messy, indeterminate situations. It also discusses the characteristics of 'slow' intuition and why managers need to foster an appropriate balance between 'fast' and 'slow' intuition.

PERSPECTIVE 2: INQUIRY

3 items

Dewey's Ideas on Inquiry and a Scientific Attitude

Pages 45-53 and 99-110 in Understanding John Dewey by James Campbell

These items are in a folder on the Topic 2 homepage in Blackboard and present a good summary of John Dewey's ideas on inquiry written by a professional philosopher called James Campbell. He has kindly given permission to use some material from his book 'Understanding John Dewey' published in 1995.

In reading pages 45 to 53 and 99-110, it is important to note that Dewey is writing about the general features of inquiry that apply to many different activities, including everyday problem solving and complex scientific investigations. As we discussed in the lecture, these features describe how people solve problems in real situations without necessarily being conscious of the process; in other words, people just naturally inquire without thinking about it. However, this does not mean people always enact Dewey's 5 phases of inquiry, only that the five phases together (according to Dewey) constitute the most rigorous inquiry process for solving practical problems and producing scientific knowledge.

PERSPECTIVE 3: SENSEMAKING

2 items

PERSPECTIVE 4: REFLECTION-IN-ACTION

3 items

ASSIGNMENT 1: ADDITIONAL STUDY MATERIAL

1 item

This chapter contains material about the Challenger investigation on pages 138 to 143 which might be of interest.

EMIP TOPIC 3: SOCIAL INTERACTION and COMMUNICATION

9 items

TOPIC 4: LEADERSHIP STYLES (SPECIAL FOCUS ON FACILITATIVE LEADERSHIP)

7 items

TOPIC 5: POWER, POLITICS AND LANGUAGE

12 items

French and Raven's Forms of Power

Webpage Essential This webpage contains a useful summary of French and Raven's different forms of power. It ends with 'So What?' and some references to their original work.

The Manager as Facilitator of Dialogue - J. A. Raelin 01/11/2013

Article Further This item presents a deeper perspective on facilitation with some challenging questions about the power of managers to facilitate more inclusive forms of dialogue and inquiry in organisational situations.

Creative Commons Attribution 3.0 Licence
Profile Required
Reading intentions and notes are stored against your user profile. Please create a profile to use this feature.
My notes
You must be logged in to add a note
What are item notes?
You can use item notes to make personal notes on any of your reading items. Notes are private to you and will not be shown to other users.
You can review your item notes from the list, the item page or from your profile page.
---
How do I create an item note?
To make notes, first you must be logged in. Once logged in, simply click Add note? next to the list item you wish to make notes on. You can also make notes at the bottom of every item's detail page.
Your note will be saved automatically as you type.
Have you read this?
You must be logged in to set a reading intention
What are reading intentions?
Setting up reading intentions help you organise your course reading. It makes it easy to scan through your lists and keep track of progress. Here's an example of what they look like: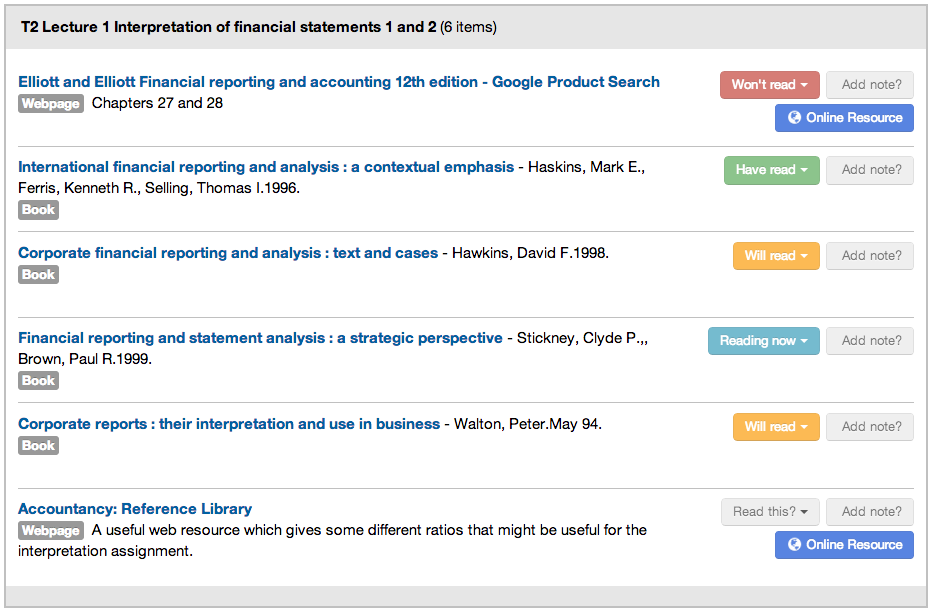 Your reading intentions are also stored in your profile for future reference.
---
How do I set a reading intention
To set a reading intention, first you must be logged in. Once logged in, click Read this? next to the list item you wish to set a reading intention for.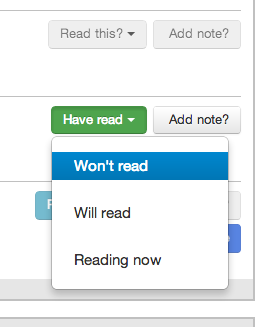 You can also set the reading intention from every item's detail page.