Recommended Reading

4 items

Below are some general resources which will be useful to give you a general overview of the approach / perspective taken in this course.

Lecture 1: Introduction to CC&EM and assessment

2 items

In this lecture we will discuss some of the roles and responsibilities involved in marketing, incorporating consideration of the impact of marketing on consumers and how marketing can be used to enhance consumer wellbeing and promote the 'common good'. The structure of the course will be discussed as well as the seminar programme and assessment

Lecture 2: Consumer Vulnerability

4 items

This lecture focuses on the concept of consumer vulnerability. We will explore what is meant by vulnerability in the context of consumption, and the way in which markets and marketing activity can sometimes put people in situations where they experience vulnerability and explore some of the ways in which consumers themselves, marketers and policy makers can challenge this.

Lecture 3: Consumption and Beauty Ideals

7 items

It can be argued that all/many consumers can be considered vulnerable in particular contexts. We have looked at the context of money & debt in the seminars and in this lecture we will consider the context of idealised images and beauty ideals. Academic studies will be discussed alongside calls to the advertising, beauty and fashion industries to take more responsibility for the impact of their decisions to use particular ideals and techniques to promote products and brands (potentially leading to consumer dissatisfaction and low self esteem).

The references below are focused on the representation and idealisation of mens' bodies. We will touch on this briefly in the lecture, so these are here for you to take your reading further in this area if you wish.

Lecture 4: Consumption as 'problematic'

4 items

This lecture will explore consumption that is understood as problematic (using the example of alcohol consumption). We will explore some of the theoretical frameworks that consumer researchers have used in seeking to understand the behaviour and also recommend approaches aimed at lessening the harm to individuals, groups and society.

Countering consumption in a culture of intoxication, Marie-Louise Fry - Marie-Louise Fry 08/12/2010

Article Essential This article is pretty accessible and explores how and if students forge credible non-drinking/sensible drinking identities (taking the starting point that to be a drinker in a student culture is a credible social identity). The study was carried out in Australia but there are lots of similarities between the UK/Australia context. Those of you from elsewhere might want to consider wether and how these 'wet' cultures differ from your home county (or countries you have spent some time in).

Lecture 5: The family, policy and wellbeing

4 items

Lecture 6: Anti-consumption

3 items

Anti-consumption research focuses on consumers' avoidance of certain brands, products and consumer practices. In this lecture we will examne some of the topics that fall into this domain including consumer activism and voluntary simplicity.

Lecture 7: Consumption ethics

3 items

In this session Dr Terry Newholm will introduce you to some philosophical approaches to understanding the (ethical) consumption decisions we make. The session will give you a chance to reflect on your own decision making and ethical standpoints!

The Ethical consumer - Rob Harrison, Terry Newholm, Deirdre Shaw 20051412903521,141290353X,9781412903523,9781412903530

Book Book is available electronically via the library. Part one - theorising ethical consumption - is especially relevant for this session (but I think you will enjoy the rest of the book too!)

Lecture 8: Unicorn Grocery Store

1 item

This week we have a guest lecture from Unicorn Grocery Store who will give you an insight into alternative business model where considerations other than profit take centre stage.

Creative Commons Attribution 3.0 Licence
Profile Required
Reading intentions and notes are stored against your user profile. Please create a profile to use this feature.
My notes
You must be logged in to add a note
What are item notes?
You can use item notes to make personal notes on any of your reading items. Notes are private to you and will not be shown to other users.
You can review your item notes from the list, the item page or from your profile page.
---
How do I create an item note?
To make notes, first you must be logged in. Once logged in, simply click Add note? next to the list item you wish to make notes on. You can also make notes at the bottom of every item's detail page.
Your note will be saved automatically as you type.
Have you read this?
You must be logged in to set a reading intention
What are reading intentions?
Setting up reading intentions help you organise your course reading. It makes it easy to scan through your lists and keep track of progress. Here's an example of what they look like: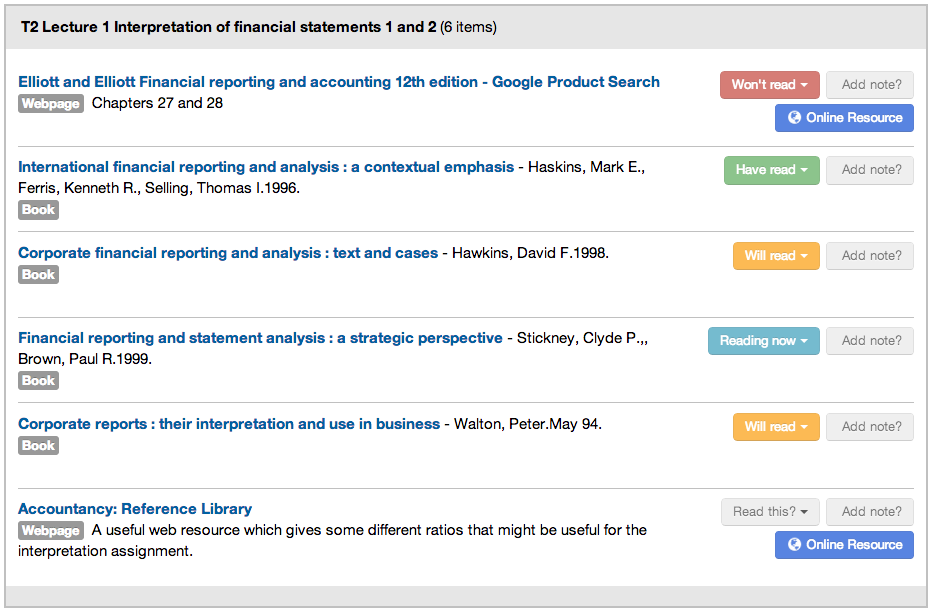 Your reading intentions are also stored in your profile for future reference.
---
How do I set a reading intention
To set a reading intention, first you must be logged in. Once logged in, click Read this? next to the list item you wish to set a reading intention for.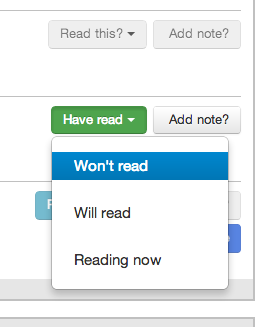 You can also set the reading intention from every item's detail page.