SOWK60751 - Applied Psychiatry
2018-2019
Unit 2 of the Postgraduate Certificate in Approved Mental Health Professional Practice
General reading for the unit

12 items

Introducing Mental Health, Second Edition : A Practical Guide - Caroline Kinsella, Connor Kinsella 20159781784500504

Book Essential This book offers a good introduction and straightforward description of the main mental disorders - particularly helpful, I would have thought, to those of you not from a mental health background.

Models of mental health - Gavin Davidson, Jim Campbell, Ciarán Shannon, Ciaran Mulholland 2016, ©20169781137365903

Book

Critical Psychiatry

6 items

Old Age Psychiatry

7 items

Aging and mental health - Daniel L. Segal, Sarah Honn Qualls, Michael A. Smyer 2018, ©20181119133165,1119133181,9781119133162,9781119133186

Book Essential This book looks systematically at forms and models of mental disorder in later life.

ABC of anxiety and depression 2014, ©20149781118780770

Book Essential Linda Gask is a psychiatrist who has specialised in depression and also written eloquently about her personal experience of the condition.

Bipolar Affective Disorder

9 items

; THE UNDISCOVERED ILLNESS Mar 2019

Article Recommended A short article looking at the possibility of establishing unipolar mania as a distinct diagnosis

Fast facts: dementia - Lawrence J. Whalley, John C. S. Breitner, ProQuest (Firm) 2009

Book Recommended

Dementia 2014 (electronic resource)1118656083,1118656229,9781118656082,9781118656228

Book Recommended

Personality Disorder

3 items

Child and Adolescent Mental Health

3 items

Perinatal Mental Health

4 items

Autistic Spectrum Disorder

3 items

Anxiety disorders including OCD

4 items

There isn't a taught session on these conditions so this material is provided for additional reading and for support with the written assignment.

Creative Commons Attribution 3.0 Licence
Profile Required
Reading intentions and notes are stored against your user profile. Please create a profile to use this feature.
My notes
You must be logged in to add a note
What are item notes?
You can use item notes to make personal notes on any of your reading items. Notes are private to you and will not be shown to other users.
You can review your item notes from the list, the item page or from your profile page.
---
How do I create an item note?
To make notes, first you must be logged in. Once logged in, simply click Add note? next to the list item you wish to make notes on. You can also make notes at the bottom of every item's detail page.
Your note will be saved automatically as you type.
Have you read this?
You must be logged in to set a reading intention
What are reading intentions?
Setting up reading intentions help you organise your course reading. It makes it easy to scan through your lists and keep track of progress. Here's an example of what they look like: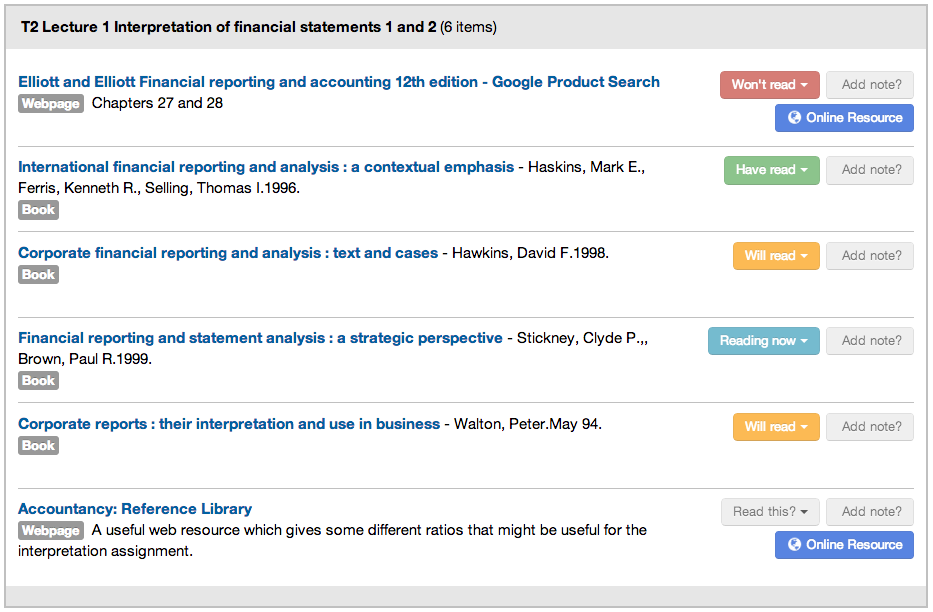 Your reading intentions are also stored in your profile for future reference.
---
How do I set a reading intention
To set a reading intention, first you must be logged in. Once logged in, click Read this? next to the list item you wish to set a reading intention for.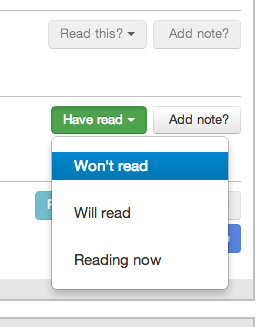 You can also set the reading intention from every item's detail page.