HSTM60592 Science, Government and Public Policy Kieron Flanagan
2018-2019
This course provides an overview of the relations between Government and science, taking the UK as a core example but considering similarities and differences among Western developed economies and between these and less developed/rapidly developing economies, by:

Introducing and problematizing the notion of public policy and how it is made and implemented (including the role of scientific knowledge and expertise, and scientists) in these processes
Outlining the key issues in policy for science and science for policy
Identifying and reflecting upon selected emerging issues in science policy (e.g. fraud and misconduct, 'Science 2.0' models of review and communication) and their implications.
Exploring the communication of and public engagement in/with science policy.

This is a list of selected texts upon which the course will draw (there is no one key text). This should be seen as resources rather than prescriptions - we know you can't read everything but have tried to provide a guide to reading and lots of alternatives. The reading list is structured and the skill to navigate a long reading list is one you should already have developed as postgraduate students. (Where we require you read something before a session we will clearly indicate this)

General background reading/pre-reading

3 items

The secret life of science: how it really works and why it matters - Jeremy J. Baumberg 20180691174350,9780691174358

Book (Also available in the library catalogue as an e-book.) An interesting book about the processes and practices of modern science written not by sociologists or historians of science but a Professor of Nanotechnology at Cambridge. If you are skeptical that sociologists and historians have anything to tell us about the nature of modern science, then I advise you read this and compare it with the academic research on the practice of modern science - you'll see that there is a lot of common ground. Different chapters of the book deal with different topics and themes that we cover in the course, such as who decides what research gets done, the importance of scientific publishing, scientific careers, etc. See also his website "The Science Monster": http://thesciencemonster.com

Why we disagree about climate change: understanding controversy, inaction and opportunity - M. Hulme c20090521898692,0521727324,9780521898690,9780521727327

Book Another insightful book about the social practices and contexts of science by a scientist rather than a social scientist or historian, reflective of what Hulme has learned through decades of working on climate science communication and policy issues. Again very consistent with and complementary to sociology and history of science research findings.

The fifth risk: undoing democracy - Michael Lewis 20180241373549,9780241373545

Book A recent journalistic investigation into the (lack of) preparation by the incoming Trump administration for 'transition' in the leadership of various departments and agencies of the federal government. In covering the transition debacle Lewis gives a really great account of the importance of often unglamorous expertise in government.

General background reading: What is Public Policy?

19 items

Policy - H. K. Colebatch 20020335209726,0335209718,9780335209729,9780335209712

Book Recommended A short, accessible introduction to public policy.

Analyzing public policy - Peter John 2012 (electronic resource)

Book Recommended A very useful book that reviews the main competing theories offered to explain policy change. This link is to the e-book but there are also hard copies in the library.

Studying public policy: policy cycles and policy subsystems - Michael Howlett, M. Ramesh 20030195417941,9780195417944

Book Further Compared to the other books listed above this one takes a somewhat more 'technical' policy studies approach: the focus is on agenda-setting, on policy instruments and policy design, and on policy learning and evaluation.

The Policy process: a reader - Michael Hill 19970136169473,9780136169475

Book Further A good reader (collection of individual scholarly articles) on various different aspects of public policy.

Policy making in the real world

Document Recommended Report from the (UK-based) Institute for Government that discusses some of the differences between ideal visions of policy-making and the more messy realities and challenges of practical policy-making. It also looks at pressures and potential avenues for reform.

Working for policy (e-book) - Hal K. Colebatch, Rob Hoppe, Mirko Noordegraaf 20119048513081,9789048513086

Book Recommended Another great introduction but more focused on what policy work involves.

How does Government work in the UK?

11 items

I was asked to add in some background texts on government, politics and policy-making in the UK, so I have added a selection of classic and recent textbooks and some other useful background resources.

Politics UK - Bill Jones, Philip Norton 2014 (electronic resource)1306890241,1447921402

Book Further An introductory text on British government and politics, for those who want to start from first principles. Available as an ebook!

Policy Making in Britain: An Introduction - Peter Dorey 2005 (electronic resource)0761949046

Book Further Introductory textbook that looks at policy-making and implementation in the British context: how is it done, by whom, and how is it (or might it be) changing?

Everyday life in British government - R. A. W. Rhodes 20110199601143,9780199601141

Book Further Recent academic study of life at the top of UK government departments based on quasi-ethnographic methods (i.e. the author followed ministers around).

Ministers Reflect | Interviews on how to be effective in Government

Webpage Further Bang up-to-date, the Institute for Government brings us this interesting collection of interviews with people who were ministers during the coalition government (2010-15) about their experience. Of particular interest might be those with David Willetts and Vince Cable, who were responsible for science and innovation during most of that government.

Below are some non-academic but interesting books which cover some of the same ground as the sources listed above.

Whitehall - Peter Hennessy 19890436192713,9780436192715

Book Further Non-academic (though scholarly) introduction to the ways of Whitehall, that is the central government of the United Kingdom by a veteran journalist.

How to be a minister - Gerald Kaufman 19970571190804,9780571190805

Book Further A well-known non-academic collection of advice to prospective ministers on how Whitehall works and how to get the most out of it.

Who runs this place?: the anatomy of Britain in the 21st century - Anthony Sampson c20040719565642,9780719565649

Book Further Non-academic account by a veteran journalist of different 'spheres' of influence in Britain, looking at the relative power or otherwise of Parliament, Government, the media, the universities, the banks etc.

Introduction to/timeline of UK science policy

1 item

Trends in UK Science Policy - Michael Keenan, Kieron Flanagan 1998

Chapter Further Still useful as a very brief history/timeline of 20th Century UK science policy.

Policy for science

54 items

Chapter 3 Vannevar Bush and the Myth of Creation - Daniel Greenberg 20010226306348,9780226306346

Chapter Recommended Veteran US science journalist Greenberg's clinical dissection of the religious fervour with which much of the US science community mythologises Vannevar Bush and his 1945 report.

Pasteur's quadrant: basic science and technological innovation - Donald Elkinton Stokes 19970815781784,0815781776,9780815781783,9780815781776

Book Further Stokes explores the economic rationale for government funding of 'basic' science, offering a new categorisation to replace the (linear?) notion of 'basic' and 'applied'.

Bacon's shadow. - Kealey, Terence Kealey, Terence (correspondence author)

Journal Further Typically provocative short article from Kealey, the arch-critic of consensus thinking on government spending on science, tracing the modern belief in a 'linear model' in which the State must support pure science in order to supply knowledge for the development of technology back to Francis Bacon.

Some deeper background reading below on linear/market failure rationales and the definitions/conceptualisations that underpin them, and on the more recent 'systems' views of innovation which have supposedly supplanted 'linear model' rationales, including the famous recent popular pamphlet and book by the innovation economist Mariana Mazzucato. Also, some background on the history/genealogy of both perspectives from the historian of innovation policy thinking, Benoit Godin.

The politics of science funding

34 items

Ch 4 The Glorious Past - Daniel Greenberg 20010226306348,9780226306346

Chapter Recommended Greenberg's take on the tendency of the science lobby to hark back to a mythical 'golden age' where public funds were plentiful and autonomy high, always contrasted with present-day underfunding and interference.

Politics of science funding - autonomy, prioritisation, selectivity

8 items

The Republic of science - Michael Polanyi 1962

Article Essential A classic defence of the need for absolute autonomy of scientists to set their own research agendas with no political or public interference.

Criteria for scientific choice - Alvin M. Weinberg 1963

Article Essential An early and influential argument that the unplanned growth of public funded science could not continue without priorities being set from outside the scientific community.

The UK Research Excellence Framework (REF)/Research Assessment Exercise (RAE)

3 items

The UK's REF (formerly known as the RAE) has been an instrument of deliberate selectivity in research funding since the mid-1980s and the effects on research cultures and incentives have been much debated.

What do we mean by excellent science?

2 items

Is 'excellence' self-evident? Peer review is the traditional mechanism for 'measuring' excellence, but how do we know different scientists understand and measure 'excellence' in the same way?

Emergence and growth of 'big science'

9 items

We don't separately cover the concept of 'big science' in this course because it is covered in the first semester 'Major Themes' unit. But the emergence and growth of 'big science' is a key theme in the post-WWII development of taxpayer-funded science and we will touch on it at various points. Here are some classic key readings (Weinberg, de Solla Price), a very helpful overview (Capshew & Rader), a hypercritical account (Fuller) plus some coverage of historic (e.g. Hughes on the Manhattan Project) and recent examples such as the Human Genome Project and the controversial EU brain project.

Big Science: Price to the Present - Capshew, James H. ; Rader, Karen A. 1992

Article Recommended Great overview of the discussions in the literature on 'big science'.

The governance of science: ideology and the future of the open society - Steve Fuller c20000335202357,0335202349,9780335202355,9780335202348

Book Further Fuller argues that 'big science' is not an inevitable end point in the evolution of a field or discipline but rather something constructed so as to appear inevitable by various social and political dynamics.

Trouble in Mind - Stefan Theil 2015-9-15

Article News feature on the troubles befalling the controversial EU mega-project to model the workings of the human brain.

Internationalisation of science

10 items

(see also the section on 'Science Diplomacy' below)

Commercialisation of science

6 items

Science for (and in) Policy

37 items

Risk and risk perception

6 items

Issues of risk perception and communication have been considered elsewhere in the Sci Comm programme but these frameworks are important intellectual tools to put the uses of science in policy into context, so we will recap them.

Policy-making, regulation and science

9 items

Science and trans-science - Alvin M. Weinberg 1972-4

Article Essential An early argument that some of the most pressing policy challenges with a science or technology component 'transcend' science and thus cannot be left for consideration by scientists alone.

Some further background reading, including the classic but highly pessimistic assessments of David Collingridge.

Advisors and expertise

22 items

The UK model - CSAs and advisory committees

5 items

These links and resources relate directly to the material, videos and handouts discussed in the class.

Below some further reading on the nature of expertise and the credibility of advisors, including the new book by Colins and Evans, Why democracies need science, which argues that STS critiques of scientific expertise should not be taken to mean that such expertise doesn't have a special role to play in policy and regulation, and that we need a new approach to integrating scientific advice with other considerations based on the logic of their 'periodic table' of expertises (first introduced in the earlier book Rethinking Expertise).

The fifth risk: undoing democracy - Michael Lewis 20180241373549,9780241373545

Book Further A recent journalistic investigation into the (lack of) preparation by the incoming Trump administration for 'transition' in the leadership of various departments and agencies of the federal government. Gives a great account of the importance of often unglamorous expertise in government.

Why democracies need science - H. M. Collins, Robert Evans 20171509509615,9781509509614

Book Further This book is in the library but also available in the library catalogue as an e-book. It's something of a polemic but short and punchy. Relevant also for broader debates about science and democracy.

Rethinking Expertise - Harry Collins, Robert Evans 2007 (electronic resource)0226113604

Book Further

Science and Democracy

24 items

The geek manifesto: why science matters - Mark Henderson 20120593068238,1446438848,9780593068236,9781446438848

Book Recommended A more measured UK version of Ferris's polemic, by Mark Henderson, former science editor of The Times and now Head of Communication for the Wellcome Trust.

The Essential Parallel Between Science and Democracy - Sheila Jassanoff 2009

Article Recommended Unlike Ferris and Henderson, Jassanoff approaches the science/democracy comparison in a more symmetrical way, thinking about the ways science needs to become more like democracy as well as vice-versa.

Freedom's laboratory: the Cold War struggle for the soul of science - Audra J. Wolfe 20181421426730,9781421426730

Book Recommended Chapter One, "Western Science versus Marxist Science". This chapter discusses the response from US scientists and from the US state to the rise of Lysenko in the Soviet Union, and how those responses were entangled. It also puts this in the wider context of pre- and post-Second World War debates about science, democracy, the State which provides some useful context for our earlier discussion of V Bush's 1945 report 'Science: the Endless Frontier'.

Why democracies need science - H. M. Collins, Robert Evans 20171509509615,9781509509614

Book Recommended This book is in the library but also available in the library catalogue as an e-book.

Do we need more scientists in politics?

6 items

Turning Scientists Into Politicians | UnDark - Michael Schulson 26/03/2018

Website Recommended An interesting discussion of the issues raised by the '314 Action' group which is backing 'scientist' candidates in US elections that goes beyond the simplistic argument over the benefits to democracy - and the risks to science. I've also linked a series of news features about the drive to involve scientists in US politics below.

The threat to reason: how the Enlightenment was hijacked and how we can reclaim it - Dan Hind 20081844672530,9781844672530

Book Further Dan Hind's book argues that ultra-rationalists (including those who have post-structuralism and science studies as 'anti-Enlightenment') are in fact engaging in an anti-intellectualism which is profoundly contary to Enlightenment values. The 'Threat to Reason' may come from these figures, and not from those they attack.

Below some further more background reading - on Merton's norms and what the history might tell us about the extent to which such shared values really figure in the practice and self-presentation of scientists.

Technological fixes

2 items

Public participation and a new social contract for science

14 items

Re-thinking science: knowledge and the public in an age of uncertainty - Helga Nowotny, Peter Scott, Michael Gibbons 20010745626084,0745626076,9780745626086,9780745626079

Book Recommended An argument for new ways of doing science that bring scientists, other stakeholders and the public closer together. Also available in the library catalogue as an e-book.

'Refrain from using the alphabet: how community outreach catalysed the life sciences at MIT' Chapter of Becoming MIT: moments of decision - John Durant0262289539,9780262289535

Chapter Further John Durant explores the case of how local concerns about recombinant DNA technology in Cambridge MA (home to MIT and Harvard) in the 1970s led to an early "citizens' jury' process with novel forms of engagement between scientists, the public and local politicians. He argues that the local regulatory arrangements that emerged from this process were a large part of what subsequently made Cambridge such an attractive location for biomedical research (the so-called 'Kendall Square' cluster). DESPITE WHAT THIS PAGE MIGHT SAY THIS IS AVAILABLE IN THE LIBRARY CATALOGUE AS AN E-BOOK.

Science Diplomacy

34 items

Science Diplomacy: Introduction to a Boundary Problem - Carolin Kaltofen, Michele Acuto 11/2018

Article Recommended Recent introduction to a special issue on 'science diplomacy' that gives a good critical overview from international relations, political science and science policy perspectives.

Science and Diplomacy: The Past as Prologue | Science & Diplomacy - Vaughan C. Turekian, Norman P. Neureiter 2012

Article Recommended Editorial in the first issue of the AAAS Quarterly publication 'Science and Diplomacy'. Turekian was the one who recently launched (or re-launched ) science diplomacy in the international arena as joint effort between the US State Department and the AAAS as a non-governmental body.

Science and diplomacy: a new dimension of international relations - Pierre-Bruno Ruffini 20173319551043,9783319551043

Book Further Fairly descriptive (rather than analytical or critical) recent account of modern science diplomacy with some chapters on different countries. This is an e-book available through the University Library. You will need to be logged into the University system in order to access it. Chapters or the book can be read online, downloaded as an ePub or as a PDF file.

Stop Inventing "New Diplomacies" | USC Center on Public Diplomacy - Shaun Riordan June 2017

Webpage Further Short critical blogpost arguing that the recent trend towards inventing new 'diplomacies' such as science diplomacy, digital diplomacy, public diplomacy, is dangerous (because the new diplomacies are so conceptually confused) and risks rendering actual diplomacy meaningless.

Science and 'soft power'

7 items

Soft power: the means to success in world politics - Joseph S. Nye 20041586482254,1586483064,9781586482251,9781586483067

Book Further Archetypal exposition of the political science concept of soft power in international relations, and why science is part of that.

Freedom's laboratory: the Cold War struggle for the soul of science - Audra J. Wolfe 20181421426730,9781421426730

Book Chapter Seven "Developing scientific minds" tells the fascinating story of how translated editions of high school biology textbooks were used by a CIA front organisation as a tool to project particular conceptions of freedom and democracy in South East Asia during the Cold War.

Below a range of further reading on science and international relations.

And below some shorter pieces - news items and commentaries - that deal with issues of science diplomacy.

How dare you call us diplomats - Amaya Moro-Martín 2017-3-14

Article Strong criticism of the Spanish government's labelling of its expatriate scientists as 'science diplomats' by an emigrant scientist who has campaigned against the science cuts that caused her and many like her to leave the country.

Issues in contemporary science policy

41 items

Overviews - is science broken?

6 items

Do we really need more scientists?

3 items

Conclusion (Chapter 9) of Is American science in decline?0674065042,9780674065048

Chapter Further A recent review of the evidence about the under or over supply of advanced STEM skills in the US, along with other supposed measures of the 'decline' of US science. Available in the library catalogue as an e-book.

Racial/gender inequality and harassment in science

6 items

Reproducibility and statistics in science

6 items

Scientific publishing and 'open science'

14 items

Is there too much science being done?

2 items

The human dimension

4 items

Further background reading on some of the people behind classic science policy ideas

3 items

Michael Polanyi and his generation: origins of the social construction of science - Mary Jo Nye 20110226610632,9780226610634

Book Further The first half of the book deals with Polanyi's life and career, and along the way provides interesting insights into the emergence of large public research institutes, industry-academic links, scientific migration, the impact of the rise of the Nazis on German science, and more besides. The second half looks at the shaping of Polanyi's ideas in economics, science policy and on the nature of knowledge and on the impacts those ideas have subsequently had.

Freedom's laboratory: the Cold War struggle for the soul of science - Audra J. Wolfe 20181421426730,9781421426730

Book Further Chapter Four "Science and Freedom" details Michael Polanyi's involvement with the CIA-backed Congress for Cultural Freedom. The story is picked up again in Chapter Eight "An Unscientific Reckoning". The story is funnier than it sounds.

Creative Commons Attribution 3.0 Licence
Profile Required
Reading intentions and notes are stored against your user profile. Please create a profile to use this feature.
My notes
You must be logged in to add a note
What are item notes?
You can use item notes to make personal notes on any of your reading items. Notes are private to you and will not be shown to other users.
You can review your item notes from the list, the item page or from your profile page.
---
How do I create an item note?
To make notes, first you must be logged in. Once logged in, simply click Add note? next to the list item you wish to make notes on. You can also make notes at the bottom of every item's detail page.
Your note will be saved automatically as you type.
Have you read this?
You must be logged in to set a reading intention
What are reading intentions?
Setting up reading intentions help you organise your course reading. It makes it easy to scan through your lists and keep track of progress. Here's an example of what they look like: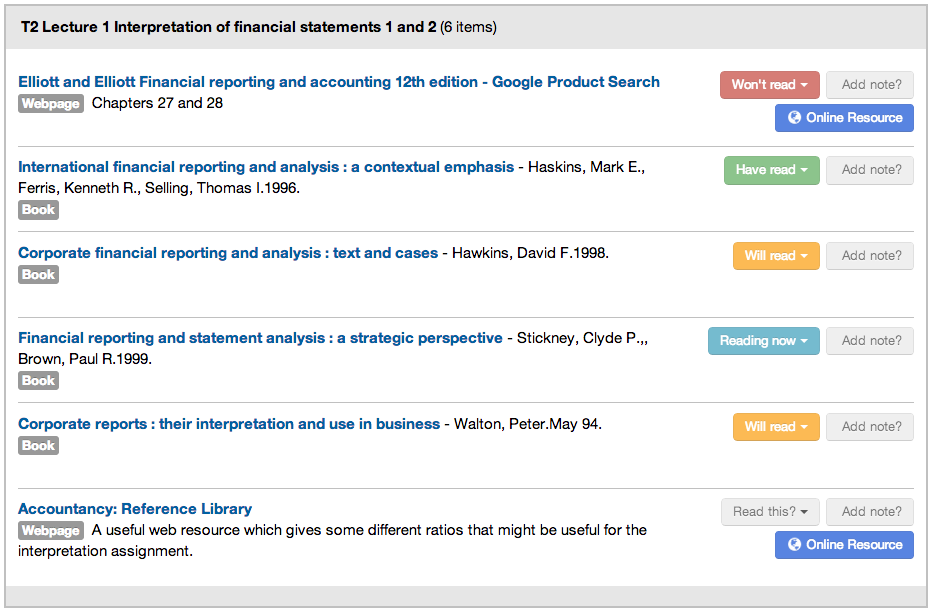 Your reading intentions are also stored in your profile for future reference.
---
How do I set a reading intention
To set a reading intention, first you must be logged in. Once logged in, click Read this? next to the list item you wish to set a reading intention for.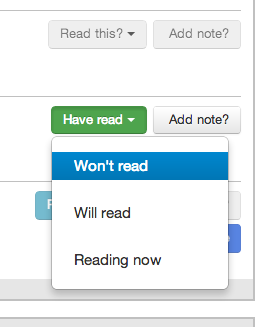 You can also set the reading intention from every item's detail page.