BMAN31461 Retail Marketing John Pal
2018-2019
This is a long list of reading. You are NOT expected to read everything.

AS A TIP I THINK YOU SHOULD FOCUS ON THE ESSENTIAL ARTICLES.

The reading has been categorised by lecture topic into Essential, Recommended and Further.

When reading the articles don't get too concerned about the methodology of the papers and the technical aspects (e.g. hypotheses, equations, statistical tests etc.); focus on the context of the research, key findings and most importantly the conclusions and managerial implications.

You are NOT required to purchase any textbooks

Practitioner and trade journals; industry/sector web sites; newspapers with special sections on retailing

18 items

If you are applying for jobs in the retail sector then this list of journals and web sites is a good way to prepare.

Website Further Can be a bit technical at times but really is cutting edge and aimed at busy executives so is friendly read for the most part.

John Lewis Partnership - Media

Webpage Further Entry point to John Lewis Partnerhip's (JLP) media page which has articles, web casts and lots more. JLP is one of the UK's most admired retailers.

Website Further US trade retail journal

Webpage Further Provides scenarios by leading thinkers

Website Further Mary Portas - former retail executive and television retail celebrity.

Lecture 1 Introduction: What is retailing and who are retailers? Success in retailing. Retail change theories

27 items

This collection of articles covers the issues of just what is retailing about, who are the retailers (as individuals) and what makes for a successful retailer. The term 'retailer' is covered in Pal & Medway "What is a retailer?"

What is a retailer? - John Pal, Dominic Medway 07/2013

Article Essential A short piece on what the attributes of a retail (leader) are.

The concept of the "Big Middle" - M LEVY, D GREWAL, R PETERSON, B CONNOLLY 2005

Article Essential This is one of the few new theories of retail change. Read this AFTER you have read the article "Institutional change in retailing" by Stephen Brown

Collection of articles about Apple. These articles will help you understand what a successful retail operation looks like.

8 items

Apple has been very innovative in its retail offer. Find out how it has achieved its success. And find out why Ron Johnson, formerly of Apple, could not replicate his success at J C Penney.

Lectures 2 and 3 Retail Strategy & Positioning

17 items

Testing Retail Marketing-Mix Effects on Patronage: A Meta-Analysis - Markus Blut, Christoph Teller, Arne Floh 06/2018

Article Essential This is a very recent (2018) meta review from the pre-eminent academic retail journal (Journal of Retailing). But don't get too concerned about the details of how the research was undertaken. Focus your reading on pages 113-120; and the discussion and managerial implications from page 128.

Webpage Essential This is the 6 page editorial to a special edition of the Journal of Retailing. Good way to get a feel for some of the forthcoming issues and research areas.

The employee-customer-profit chain at Sears Jan 1998

Article Essential This is a classic article. Attitudes driving behaviour is the approach taken by Sears in turning round the company. It was then used by other retailers. But consider this: shouldn't retailers try to change employee behaviour and then that changes attitudes?

Don't Be Undersold! - Steenkamp, Jan-Benedict E. M. Kumar, Nirmalya. 2009

Article Recommended Article from Harvard Business Review about Aldi's strategy

The BHS turnaround plan -March 2015

Document Further The failure and purported turnaround of BhS are notorious. Here you can see the turnaround plan submitted Retail Acquisitions and published in the Select Committee investigation to the pensions crisis at BhS.

Lectures 4 and 5 Merchandising, range planning and pricing

21 items

Which products should you stock? - Fisher, Marshall

Journal Essential Takes the reader through the process of how to decide which products to delist. There's a bit of maths in here but nothing too onerous, and it's the principles that are of real interest.

Trends in retail pricing: A consumer perspective - Ian Yeoman, Carol Wheatley, Una McMahon-Beattie 2017-4

Article Essential Speculates about a series of consumer trends and then works through the pricing implications. A very readable article

Lectures 7 and 8 Supplier selection and and supplier management

19 items

Lectures 9 and 10 Store design, layout and visual merchandising

23 items

Insights from In-Store Marketing Experiments - Jens Nordfält, Dhruv Grewal, Anne L. Roggeveen, Krista M. Hill

Article Essential Details some in-store experiments undertaken in relation to store atmospherics and visual merchandising.

Lecture 11 Customer communications

2 items

Lecture 12 Retail operations

11 items

Lecture 13 Customer service

3 items

Lecture 14 Stockloss management

3 items

Lectures 15 and 16 Retail Location

15 items

Lectures 17 and 18 International retailing and international retail failure

15 items

Lectures 19 and 20 Retail failure (and how to avoid it! including turnarounds)

24 items

Lecture 21 Retailers interface with government (as part of a (large) retailer's strategy)

5 items

Working the system - John Pal, Dominic Medway 2008

Article Essential This is about how retailers influence government policy

Webpage Recommended Short commentary about a Freedom of Information request related to WalMart's meeting with then Prime Minister Tony Blair. Did WalMart buy Asda because they were unlikely to get planning permission for stores in the UK?

Creative Commons Attribution 3.0 Licence
Profile Required
Reading intentions and notes are stored against your user profile. Please create a profile to use this feature.
My notes
You must be logged in to add a note
What are item notes?
You can use item notes to make personal notes on any of your reading items. Notes are private to you and will not be shown to other users.
You can review your item notes from the list, the item page or from your profile page.
---
How do I create an item note?
To make notes, first you must be logged in. Once logged in, simply click Add note? next to the list item you wish to make notes on. You can also make notes at the bottom of every item's detail page.
Your note will be saved automatically as you type.
Have you read this?
You must be logged in to set a reading intention
What are reading intentions?
Setting up reading intentions help you organise your course reading. It makes it easy to scan through your lists and keep track of progress. Here's an example of what they look like: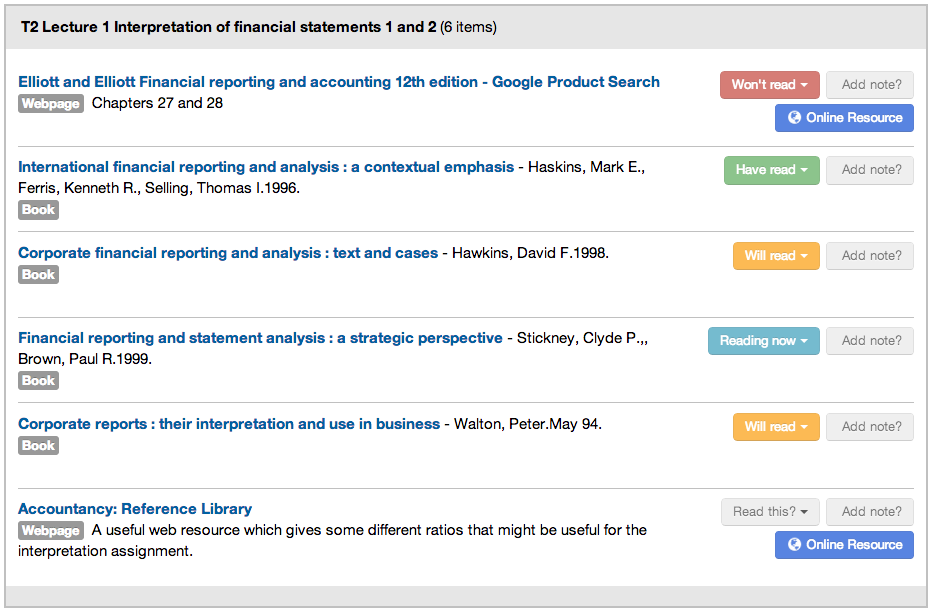 Your reading intentions are also stored in your profile for future reference.
---
How do I set a reading intention
To set a reading intention, first you must be logged in. Once logged in, click Read this? next to the list item you wish to set a reading intention for.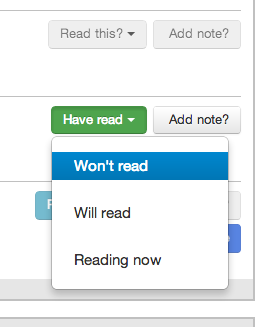 You can also set the reading intention from every item's detail page.